South Coast Tote Bag (L)
[
FM159BK
]
South Coast Tote Bag L size
"Mookie Sato", who is Japanese artist that succeeds in the world and HULA MOON collaboration item of light and strong canvas cloth tote bag has arrived.
Design is [South Cost]
On the front is imaginary Surf Bar at the South coast imaged design printed and on the back side Mooneyes x Mookie sign printed as an accent.
High capacity size that can be use for any scenes like as shopping bag, mothers bag, daily use and to small trip.
It is also recommended bag for going to gym and yoga!
Color: BK Black
Material: Canvas 100% cotton
Size: (W) 48 cm × (H) 40 cm × (D) 15 cm
Handlehold: 2.5 cm × 60 cm
Contents: 20L
*Please not that, it is unbleached item so, there will be some piece of cotton leaf (black dot) and such.
***Handling Recommendation***
To keep the quality of the printing, wash it inside out.
---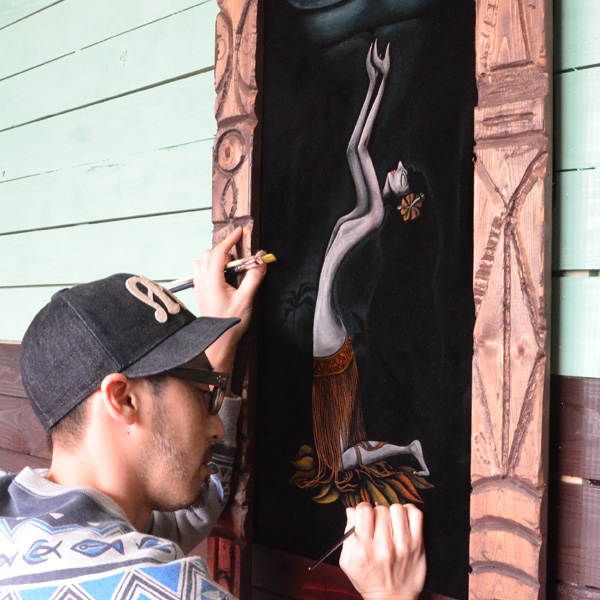 Mookie Sato
Mid-century, Specialty of Tiki culture style.
Started to be active on 2000. Including Japan, and countries all over the world, he worked for record label, CD jacket, museum flyer and other things.
If you just look at it once, you can't forget it.
Polynesian-pop style is highly evaluated to all over the world including USA, France, Spain, and Australia. Japanese Artist that is taking active part on painting, Tiki style, TIKI MUG and other designs.
Official HP
Here