MOON Side Deflector Kit
[
AA740
]
MOON Side Deflector Kit
AERO STREAM AIR DEFLECTORS
Prevents dangerous exhaust fumes coming in.
Protect rear window for clear & safe vision.
Rear window deflector that is necessary for 60~70's Station Wagon.
When you drive I5, PCH and other cars at the freeway,
the rear window gets dirty with the fumes and winds coming in.
But by mounting this deflector it can adjust the wind coming in and prevent it to get dirty.
Therefore, it keeps the clear vision from the long drive.
---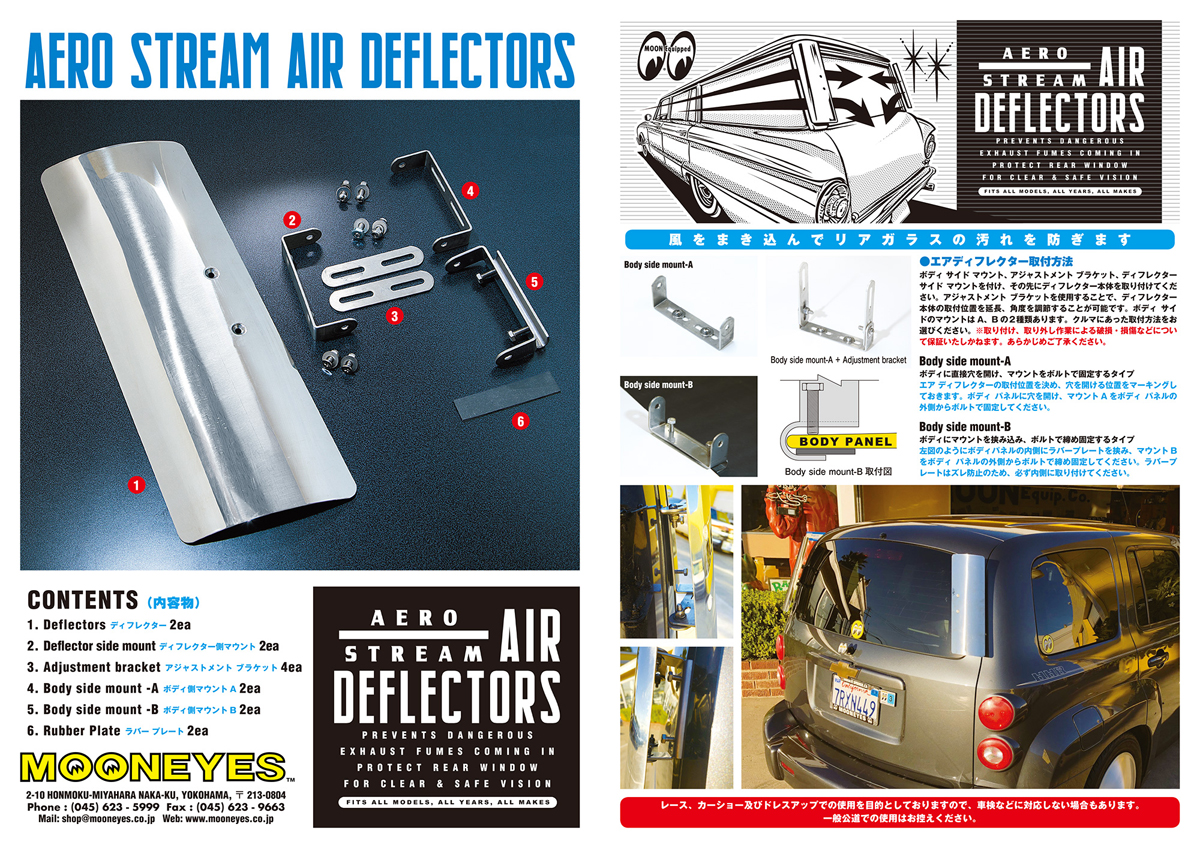 Air Deflector Installation Instructions
There are two types of mounting brackets included with your Aero Stream Air Deflectors and two different methods in which to attach them to your car. The first step is to determine which method works better with your application. Body side mount bracket (A) requires that you drill two holes in each of the rear window post, you will screw the bracket directly to the body. Body side mount bracket (B) can be used where there is a flat panel edge, usually the rear door or hatch, this bracket can be installed with no drilling.
Please note that we do not take any responsibility or liability for any damage or loss caused through installation process.
Body side mount bracket (A) Installation.
Measure the height of the back window to determine the center point and mark that center on the rear window pillar of the body. Drill one hole approx. 1 inch above that center point and the second hole 1 inch below that center point, if there is a slope on the rear window those holes need to be on a line parallel with that slope. Mount the (A) brackets directly to the body using sheet metal screws provided.
Body side mount bracket (B) installation
This set up will be more commonly used on late model cars that have a flat door or hatch edge. This bracket is designed to just slide over and clamp on that edge. With the bracket bolts loosened place the bracket along the panel/door edge and center it to the rear window, with the bracket in place, insert the rubber pad between the bracket and the back side of the body panel. Tighten the bracket bolts until bracket is secured.
With body side mounts (A or B) in place you can now mount your deflectors attaching them first to the Deflector side mount and then to the adjustment brackets which attach directly to the body side mounts that you have attached already. With adjustment brackets slightly loose position your deflectors making sure you can open doors without any obstruction. Once you have them in place tighten all your screws and enjoy.
※Purpose to use for dressup, do not use it on a public road.
Accessories
Deflectors 2ea
Deflector side mount 2ea
Adjustment bracket 4ea
Body side mount -A 2ea
Body side mount -B 2ea
Rubber Plate 2ea
Screw 4ea
Size:(H)35cm (W)13cm (D)3cm